Achievement
The extent to which protein sequence motifs confer specific structural signatures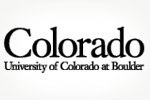 Project
IGERT: Interdisciplinary Quantitative Biology Program
University
University of Colorado at Boulder
(Boulder, CO)
PI
Education Achievements
The extent to which protein sequence motifs confer specific structural signatures
This achievement was motivated by a single question about Ramachandran plots from first year graduate student and IGERT Fellow Kyle Keepers in the IQ Biology Core Course "Foundations of Quantitative Biology" taught by IGERT PI Thomas R. Cech and BioFrontiers Faculty Loren Hough. The question led to an in-class assignment and ultimately grew into a semester-long learning exercise. The IQ Biology first-year students dedicated extra-curricular time throughout the following semester to meet with Drs. Cech and Hough. The project goal was to determine the extent to which protein sequence motifs confer specific structural signatures. Accomplishments include:
1. Their broad and diverse backgrounds allowed the group of students to tackle a research question that spans several disciplines.
2. Preliminary results show a promising phi-psi distribution of angles in protein motifs that correlate with functional annotation.
3. IQ Biology Faculty and Staff facilitated this collaborative effort.
SEE MORE: