Achievement
Studies on PET imaging and tracers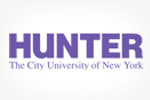 Project
IGERT: Returning the Radio to Chemistry: Integrating Radiochemistry into a Chemistry Ph.D. Program
University
City University of New York Hunter College
(New York, NY)
PI
Research Achievements
Studies on PET imaging and tracers
Optimized the chemistry of radiolabeling an aptamer with the PET tracer zirconium-89 and characterized in vitro properties. This is the first aptamer for in vivo PET imaging
We completed PET imaging and biodistribution studies of a radiolabeled monoclonal antibody specific for pancreatic ductal adenocarcinoma (PDAC).
We developed a new method for radiolabeling targeting entities with the PET tracer fluorine-18 that will be applicable for many applications. It is a rapid and highly sufficient method, which is currently being optimized with "green" chemistry considerations. This is a highly exciting project since it will be of considerable use for the research community as well as for possible clinical applications.
SEE MORE: