Achievement
Trainee interns at Fondriest Environmental, Inc.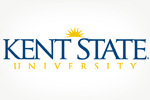 Project
Environmental Aquatic Resource Sensing: Basic Science, Business Education and Outreach
University
Kent State University
(Kent, OH)
PI
Trainee Achievements
Trainee interns at Fondriest Environmental, Inc.
Beginning last February, Jenny Bentrup has an internship through the EARS-IGERT program at Fondriest Environmental, Inc. in Dayton, OH. She was interested in this company because they are leading experts in sensor technology. Many of their buoys can be are deployed in the Great Lakes region. This summer, she is studying how high frequency rain events affect lake transparency. To better understand what occurs in lakes, she worked with Fondriest engineers to design and build a profiling buoy to deploy at a lake in Pennsylvania. The buoy will be equipped with sensors to study changes in dissolved oxygen, light, and chromophoric dissolved organic matter, etc. The EARS-IGERT program has been instrumental in providing opportunities to interface between science and technology. Jennys' internship at Fondriest has allowed her to be at the forefront of the application of automated sensors to aquatic systems to advance scientific understanding of environmental changes occurring in lakes.
SEE MORE: