Achievement
Team develops software package to speed up statistical analysis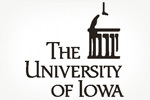 Project
IGERT: Geoinformatics for Environmental and Energy Modeling and Prediction (GEEMaP)
University
University of Iowa
(Iowa City, IA)
PI
Research Achievements
Team develops software package to speed up statistical analysis
An interdisciplinary research team led by Kate Cowles (Statististics), Marc Linderman (Geography), and Brian Smith (Biostatistics) has developed a software package to speed up statistical analysis of spatial data by using graphical processing units for much of the computation. GEEMaP student members of the team are Juan Cervantes, Danielle Dodgen, and Alex Sawyer.
The public-domain, open-source software is available for free download from the Comprehensive R Archive Network (cran.r-project.org). It is called CARramps (Reparameterized and Marginalized Posterior Sampling for Conditional Autoregressive Models). The models it can fit are appropriate for data measured at regularly-spaced locations and/or time intervals, such as satellite images.
A major problem with analyzing large environmental datasets is that computing run times are prohibitively slow -- taking days or weeks. The new software speeds up computation by up to 90 fold.
SEE MORE: