Achievement
Technologies and values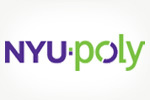 Project
IGERT: INSPIRE: Information Security and Privacy: An Interdisciplinary, Research and Education Program
University
Polytechnic Institute of New York University
(Brooklyn, NY)
PI
Education Achievements
Technologies and values
Our program requires trainees to take courses outside their main discipline. Specifically, they are required to take courses in non STEM disciplines like economics, psychology, policy, or law. During the first semester of our IGERT program, the trainees took a course taught by Helen Nissenbaum (a Co-PI) at the Department of Media, Culture, and Communication in NYU-Steinhardt.
The course studies the technologies, and associated socio-technical systems, through the lens of social, political, and ethical values. It asks the student to consider whether and how these technologies promote or impede values to which we, individually and as societies, are committed, values, such as freedom, privacy, justice.
The course is project-centered. Students form collaborative groups, select projects and apply philosophical and social theories of technology to analyze and, possibly, design, prototype, and build information systems.
SEE MORE: