Achievement
Trainees progress within the IGERT program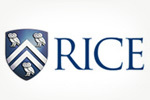 Project
Nanophotonics: Fundamentals and Applications in Emerging Technologies
University
William Marsh Rice University
(Houston, TX)
PI
Trainee Achievements
Trainees progress within the IGERT program
Arthur Nieuwoudt earned his doctorate in Electrical and Computer Engineering in May 2008. He works as a R&D Engineer on the Star-RCXT product development at Synopsys in San Jose, CA.
Kimberly Heck earned her doctorate in Chemical and Biomolecular Engineering and plans to continue to pursue a post doctoral fellowship at Texas A&M University. In April Kim won a poster award at the S.W. Catalysis Society Symposium. Dan Ward, Britain Willingham, Mark Knight, Lisa Brown and Liane Slaughter passed their qualifying exams and earned master's degrees. All will continue their doctoral study.
Dan Ward, Britain Willingham and Dale K. Jamison completed all IGERT course work.
The LANP Seminar and Journal Club continue to serve as a successful means in which students can learn, discuss and present their research. Participation in the LANP seminar has increased from approximately 30 to 94.
SEE MORE: