Achievement
Speaker series: Tacit Learning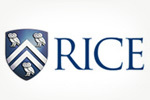 Project
Nanophotonics: Fundamentals and Applications in Emerging Technologies
University
William Marsh Rice University
(Houston, TX)
PI
Education Achievements
Speaker series: Tacit Learning
Speaker Series: Tacit Learning
The IGERT speaker series allows for the trainees to have contact with and learn from top leaders from a variety of disciplines. When speakers are invited, their schedules include a meeting with the IGERT trainees. Students have the opportunity to visit with speakers and learn their perspectives on issues such as academic research environment versus industrial research environment, etc.
Speakers this year include:
Dr. Alfons van Blaaderen , Soft Condensed Matter, Debye Inst. NanoMaterials Science, Utrecht Univ., The Netherlands.
Dr. Greg Scholes, Lash-Miller Chemical Laboratories and the Institute for Optical Sciences, University of Toronto.
Dr. Nader Engheta, School of Engineering and Applied Science, University of Pennsylvania. Dr. Federico Capasso, School of Engineering and Applied Science, Harvard University. Ms. Wei Hong, student of Prof. H. Xu, Institute of Physics, the Chinese Institute,Beijing, presented her Ph.D. thesis.
SEE MORE: