Achievement
Academic and professional achievements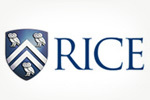 Project
Nanophotonics: Fundamentals and Applications in Emerging Technologies
University
William Marsh Rice University
(Houston, TX)
PI
Education Achievements
Academic and professional achievements
As the first cohorts have progressed through the IGERT program, they have seen academic and professional achievements. Kathryn Mayer defended her thesis and received her Ph.D. in May, 2010. She is presently a post doctoral fellow at the University of Texas, Austin. Dan Ward received his doctorate in May 2010. He is pursuing a post doctoral fellowship at the University of Wisconsin, Madison. Kimberly Heck earned her doctorate in Chemical and Biomolecular Engineering in 2009 and is pursuing a postdoctoral fellowship at Texas A&M University.
Arthur Nieuwoudt earned his doctorate in Electrical and Computer Engineering in May 2008. He works as a R&D Engineer on the Star-RCXT product development at Synopsys in San Jose, CA.
Jared Day and Matt Turner passed their qualifying exams and earned master's degrees in May 2010. Both are continuing their doctoral study.
SEE MORE: