Achievement
Trainees progress within the IGERT program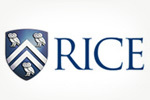 Project
Nanophotonics: Fundamentals and Applications in Emerging Technologies
University
William Marsh Rice University
(Houston, TX)
PI
Research Achievements
Trainees progress within the IGERT program
Kathryn Mayer successfully defended her thesis and will receive her Ph.D. in May, 2010.
Lisa Brown, Liane Slaughter, Lindsey Anderson, Jared Day, Chance Mooney and Quang Nguyen completed their IGERT coursework.
Undergraduate interns Mel Hainey and Elizabeth Figueroa will receive their B.S. degrees in May and both have been accepted into doctoral programs.
SEE MORE: