Highlight Photo
Prefiguration of Stem Cell Phenotypes using High Dimensional Nuclear Organization.
High Dimensionality Biology of Stem Cell Nuclear Organization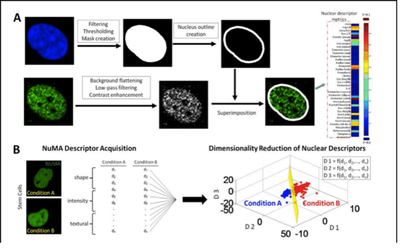 Overview of high-content analysis of stem cells. (A) High-resolution images of NuMA were processed to segment individual NuMA nuclei ROIs for feature extraction. (B) Over 40 shape, intensity, and textural quantitative NuMA descriptors were acquired for each cell. Dimensionality reduction (PCA) was applied to generate combinations of descriptors that define the subcellular state of different conditions. A hyperplane that best separates these conditions based on their subcellular signatures is shown after classification process using support vector machine (SVM), sensitivity and specificity were used for evaluation of classification efficiency.
Credits: Professor Moghe at Rutgers