Highlight Photo
Investigating the Characteristics of Confined Cellular Systems on the Effectiveness of Ultra-Stable Vaccines for Mycobacterium tuberculosis.
Growth of films aged for 16 months in dry storage.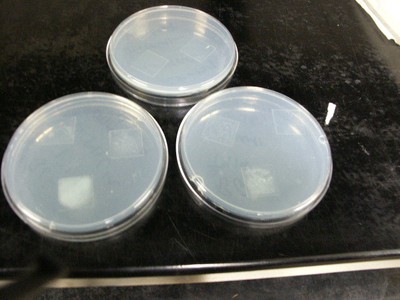 Growth of M. bovis BCG aged in dark at 37 C for 16 months and then placed film-down upon 7H11 agar (with 0.5% Tween, 0.2% glycerol, and albumin-dextrose-catalase supplement) and incubated for 3 weeks. Florid mycobacterial growth is visible for cells maintained within nanostructured matrices, especially the thick cast films. Non-nanostructure encased mycobacteria were sterile.
Credits: Dr. Eric Carnes, UNM